Most Southeast Asian capitals have carved their own distinct identities but Vientiane is still in that thrilling phase of self-discovery. The Laotian capital seems to be on the cusp of change, having at last settled into sociopolitical independence to finally go about defining itself.
Diverse architecture marks the remnants of a difficult past, from razing by the Thai army in the 1820s and French colonialism in the next century to mansions abandoned during the civil war in the 1970s. In the city centre, its French legacy mingles with local aspirations and philosophies. Nowhere is this better exemplified than at the Patuxai, modelled after the Arc de Triomphe and named for the Sanskrit words for 'victory door' or 'gate'. While its form is French, its accents are decidedly Lao, the castle-like turrets decorated with the same elements of local mythology that ornately embellish the interior walls and ceilings.
Advertisement

Advertisement

Advertisement

The confluence of dual cultures continues with charming wine cellars and bakeries tucked between Buddhist stupas, old sundry shops, noodle outlets and bustling night markets. Fast-food mammoths such as McDonald's are nowhere to be found; a quick meal here would be a fresh, crusty baguette or larb — a fragrant salad of minced meat, herbs and toasted rice tossed with copious lime juice and fish sauce — and a side of sticky rice cooked and served in bamboo in a hole-in-the-wall. As the sun sets, Vang Tong evening market bustles with life, hot grills emanating smoke thick with the scents of fresh fish (paa), pork (moo) and chicken (gai), that compete with the aroma of pungent curries. The coffee is strong and often locally grown, but the drink of choice here is Beer Lao.
Despite a history riddled with hardship, the city draws its relaxed rhythm from the flow of the Mekong River that borders Thailand. If you visit during the dry season at year-end or before April, the Mekong dries up to reveal a sandbar between the two countries, which locals populate with food stalls. Have a picnic and a stroll, but take care to not inadvertently cross into Thailand.
This seems to be the land that time forgot, for sunrises and sunsets in the capital appear to dictate little else but mealtimes. The hours in between are passed in sleepy, cursory activity, a stark contrast to the frenetic pace of most cities in the region. Tourists are understandably swept along by this languid tempo and while it is tempting to while away the days in aimless leisure, Vientiane deserves to be explored. Start at the Lao National Museum, also known as the Lao National History Museum, whose worn colonial façade belies a comprehensive, if slightly chaotic, range of exhibits, from dinosaur bones to the modern struggle for independence. Set in a traditional home amid a garden of palm and fruit trees, the Lao Textile Museum preserves old silk and cotton-weaving techniques. Visitors can try their hand at these or lose themselves in a whirl of colours and materials at the exquisite gift shop.
Advertisement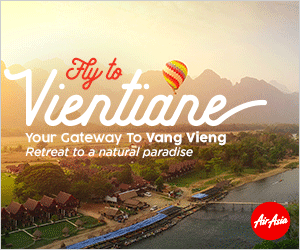 Buddhism winds its way through this peaceful, amiable population, expressed in famous temples such as Wat Si Saket, the country's oldest house of worship that contains 10,000 images of Buddha, and the gilded Pha That Luang, the astounding national symbol believed to host a relic of the Buddha. Though the city can be comfortably covered on foot or bicycle, hop onto a tuk-tuk or the No 14 bus to visit the mythological melting pot that is Buddha Park, a living green canvas coloured with strange but wonderful Buddhist and Hindu sculptures.
Antique shop Oot Ni Gallery might drive you to purchase additional luggage allowance for the flight home. Watercolour and oil paintings and Buddhist artefacts sit alongside ornamental opium pots, bone china tea sets and teak carvings. The Talat Sao morning market offers a more contemporary shopping experience for gung-ho early risers while the Vientiane night market on the promenade has clothes, accessories and artworks at bargain prices.
As most big hotel chains are absent here, accommodation is often a wholly local experience. Hostels attract a potpourri of backpackers while guests seeking finer sleeping quarters can check into Crowne Plaza Vientiane, the colonial Ansara Hotel or the refined Settha Palace Hotel.
Vientiane is often a transit point for travellers on the way to Vang Vieng, three to four hours to the north by bus or private car. Even the capital seems relatively busy beside the gem that is Vang Vieng, an emerald paradise of padi fields, forested hills and crystal waters that sits along the Nam Song River. In this Eden, even Eve might have turned down the apple that doomed her lest she be banished forever from this idyllic haven.
It wasn't always so. In the early 2000s, the wide river was a favourite with party-hearty tourists who spent entire days floating down its length in a pastime known as tubing, pulling up at the many river bars on stilts along the banks for cheap drinks. Excessive alcohol consumption caused several deaths and injuries, forcing government intervention. Bans on these bars resulted in the restoration of peace and a more civilised demographic of tourists.
A handful of these bars still remain but pursuits here now centre on the trove of natural treasures that bestow the town its reputation as an adventure destination. Limestone mountains hide warrens of caves for the intrepid explorer, and the service of a guide is recommended. Tham Nam cave is a 200m deep chamber with a pool of spring water at its mouth and a little river inside, only accessible during the dry season. Nearby is Tham Xang cave, a Buddhist shrine revered for a stalactite that strongly resembles an elephant.
Tham Phu Kham, set halfway up a limestone cliff, is a fascinating labyrinth of chambers and galleries adorned with stalagmites and stalactites, and a 3m-long bronze reclining Buddha celestially illuminated by a skylight. If wandering into the dark unknown does not appeal, stop instead at the Blue Lagoon in front of the cave, which gets its name from the turquoise waters that gush out of the mountain. Deep in depth and colour, it is a mandatory visit for those who can swim, with a tree providing platforms of varying heights from which to dive and ropes to swing yourself to the middle of the lake.
Hiking, zip-lining, river rafting and an organic farm visit beckon, as do hot air balloon or ATV rides. The Vang Vieng Elephant Sanctuary comprises a dozen gentle giants rescued from labour, which now wander freely and luxuriate in mud baths. Riding them is not allowed; visitors can instead feed or bathe the elephants to interact with them.
Should the weather prove too wet or oppressive for venturing outdoors, the town has ancient monasteries to discover and a surprisingly colourful nightlife. Bars such as Sakura, Room 101 and Earth Bar & Restaurant attract a young crowd and quieter travellers might prefer a pint or dram in their hotel bars. The Riverside Boutique Resort is the best place to book a stay with balconies facing the swimming pool and a sturdy limestone formation in the horizon streaked with the colours of sunset.
Laos gets little love in regional tourism promotion but this works to its advantage, maintaining an Old World charm lost to most capitals here. From the ashes of struggle, it rose resilient and dignified, constantly reclaiming its culture of graciousness and independence. It is to Laos you go to remember a Southeast Asia many of us have forgotten, and the reward for this pilgrimage is a vivid walk down the Lane of What Once Was.
AirAsia flies to Vientiane from Kuala Lumpur every Tuesday, Thursday, and Saturday at 6.40am. Return flights depart at 8.50am on the same day.